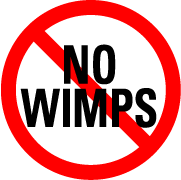 There are a lot of them out there!  Neutered coaches that are such wimps they can't even tell a player she's been cut from the team.  Baseball, soccer, and softball have some of the worst!
My daughter was 14 years old and had sustained a shoulder injury but managed to get through the rest of the ASA season.  She was a catcher and outfielder and her life was all about softball.  The season ended with a trip to the ASA Softball World Series.  The team was tight and most of the girls truly liked each other, which was rare for that age!
A month after the World Series this select team was the very last one in the area to hold tryouts.  Because it was a select team, it wasn't under the umbrella of an organization.  This meant they could conduct tryouts any which way they wanted to.  There were 18 spots on the team and 38 girls trying out.  However, he decided since there were so many players they would have an "A" team and a "B" team. The coach assured all the returning players they would make one of the teams.   None of the girls were worried (at least outwardly) about getting bumped down to the "B" team…but maybe they should have been.
The coach said he was going to send an e-mail to all the players letting everyone know which team they were on by the end of the next day.  We waited and waited as the days went by. Finally, a friend on the team forwarded my daughter the e-mail that had been sent out to the other 37 girls who tried out letting them know what team they were on.  My daughter's name was not on either list!  We didn't panic and told her it must have been on over sight.  My husband then called the coach to find out what was going on.
This is where it got really interesting.  He said that he thought she was injured and he wanted her to rest her shoulder, so he didn't put her on a team.  What the heck?  Her injury was mild and only needed a 4 week rest, according to her physical therapist.  She was at tryouts, tried out, and he saw her!  He didn't talk to her about taking time off.  He didn't tell her she would be placed on any injured reserve list. He never even talked to our kid during tryouts, never! You were simply on the team or not on the team. He told them.
The teams (both A and B) had their team kickoff BBQ meeting the night before and we were not invited or included, that's when we got the hint.  We were flabbergasted and I had a daughter that was devastated. This team had been her life for several years.   Cut from a team and the coach didn't even bother to tell her.  Talk about inflicting intentional wounds and abusing a coach's power.  Try explaining that to a 14 year old.  And the worst part of it all, there was not a darn thing we could do about it…nothing, absolutely nothing !  It was the beginning of the end of a sport.
I know I am not the only one out there that has had this kind of experience, they happen all the time in youth sports.  Is there anyone you know who has had a similar experience, their kid was cut by a neutered coach, someone who didn't have the decency or guts to be honest with a kid?
When there is no recourse to a coach like this, the best thing is to not waste time wallowing in self pity!  Pick yourself up and help pick your kid up and go try out for another team…there is always another team!