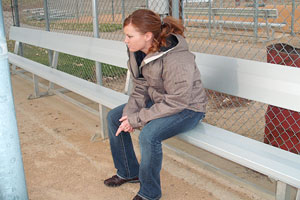 She was in the 6th grade and it was summertime during the softball District All-Star Tournament.  The team had a game the night before and she had a fabulous game.  The coach told her she had the starting position in the outfield the next day.  This was a girl that had to work twice as hard as most of the girls to get to where she was as athletics did not come naturally.
After the game she ran into the bathroom only to find out her period had come for the very first time ever!  Somehow the coach, a great guy, with several young girls of his own, got wind of it.  The next night she had another game only this particular All-Star game she didn't start.  This would normally have been fine except that she was told she would start and didn't even get a chance to play, which was very abnormal.
After the game she asked the coach why he didn't play her.  The coach looked at her and said, "Well I heard you started your period yesterday and I didn't think you would be feeling like playing today."  She said "I feel fine" and walked away, then found us and told us what he had said.  Talk about an intrusion into someone's personal business.  An assumption made on a stereotype.  We later talked to the coach about the situation at a more appropriate time and he was very apologetic to both my daughter and to us for his stereotyping!
During those very delicate 11-12 year old All-Star years, a time when many girls become women, there should be a female on the coaching team or at the very least in the dugout with the girls for just this reason.
As for you dads and male coaches out there who coach girls ages 11-13; just know your players are going to become women during this time and YOU need to be prepared!  Don't assume and treat these girls like they are sick puppies.  Instead, ask them how they feel, especially if you have reason to believe they are not up to playing.  They will tell you how they feel and you will be showing respect and courtesy towards your player.  After all, a key to youth sports is to build self-esteem and be supportive of your team players.